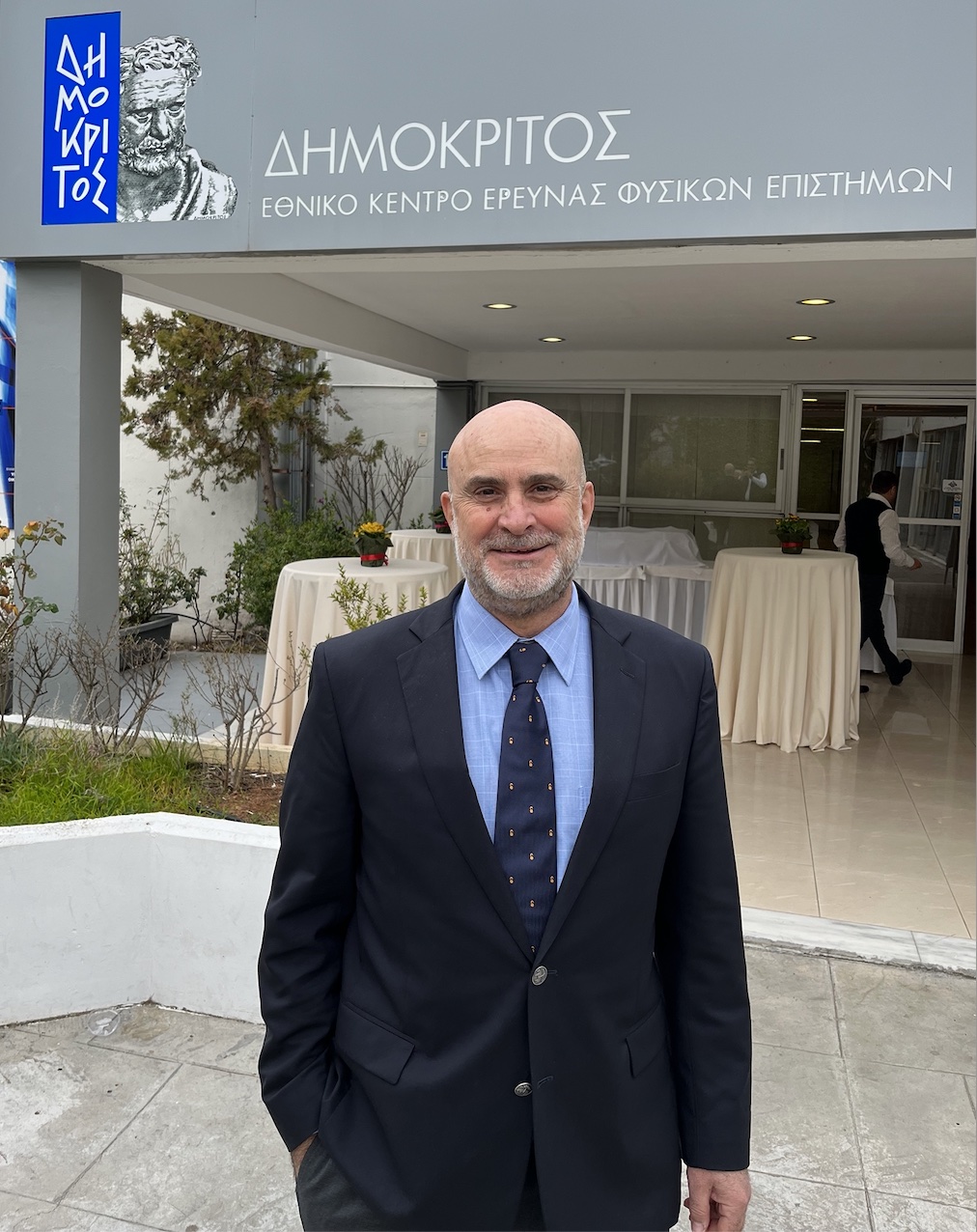 Demokritos Labs Director and Chairman Dr. George Nounesis is on a mission to bring scientists back
Athens, Greece
March 2023
As Greece works to recover from the devastating financial crisis of the last decade, one of its most vital tasks is to bring talented individuals back into the country to work and create opportunity for others. In this podcast I speak with Dr. George Nounesis, the director and chairman of Demokritos, Greece's National Centre for Scientific Research.

Nounesis, who is an award winning scientist, says he is on a mission to create opportunities for Greek scientists who are living and working abroad to bring their world class research back to Greece.
The phenomenon of brain drain is known to anyone familiar with Greece. Especially in the years since the financial crisis, many educated young Greeks have taken their talents abroad to find economic opportunities that had not been available to them in Greece.
In 2019, when Greek Prime Minister Kyriakos Mitsotakis visited the Council of Foreign Relations in New York, for a dialog with Ambassador Nicholas Burns, I asked Mitsotakis about the problem of brain drain. (You can listen to his answer below.)
Nounesis says he is trying to do his part to turn Greece's brain drain into brain gain.
With the help of 48 million Euros in funding from the European Investment Bank, Demokritos is upgrading its campus to support research and technology development efforts that can help to transform the Greek economy.
In the last four years, Nounesis says Demokritos has created some two dozen tenure track positions for researchers from abroad and an equal number for researchers from Greece, in such fields as life sciences, biology, artificial intelligence, the internet of things, robotics and digital manufacturing.
Seed funding of close to 8 million Euros helped Demokritos establish a new Institute of Quantum Research and Quantum Technology last year, which has received a first generation of young researchers and a young director all coming from abroad
Demokritos is a public research institution but its efforts are not purely academic. There is a strong business component. "If you want to be an impactful research ecosystem, you have to open up to technology transfer, to private investment, to supporting entrepreneurship," says Nounesis.
The NATO Innovation Fund — the world's first multi-sovereign venture capital fund — has chosen Demokritos to be the site of one of its nine entrepreneurial accelerators that will host hi-tech startups. Several startups from NATO countries will soon relocate to Demokritos and receive support for their research and development in such fields as quantum computing, autonomous systems, space and biotech. The startups will receive access to laboratories and networks of investors.
Nounesis says one of his goals is to attract more Venture Capital to Demokritos.
One of the young scientists who has heeded the call to return to Greece is Dr. Filippos Tourlomousis. Working with M.I.T.'s Center for Bits and Atoms — an interdisciplinary initiative exploring the boundary between computer science and physical science (where he had done his post-doctoral work) — Tourlomousis is setting up at Demokritos the first labs in Greece for digital manufacturing.
On a tour of of his lab, Tourlomousis showed me two of the autonomous system robots he has created for applications in the fields of material science and biotechnology. These robots can do experiments on their own, evaluate the results, make decisions and communicate those decisions to each other.
Tourlomousis explains that one robot automates the procedures for the synthesis and testing of bio materials, searching for new compounds much more quickly and effectively than human researchers who employ a trial and error method. The research is being applied to find materials for the circular economy that have a zero carbon footprint The goal is to create bio-degradable alternatives to petroleum based plastics, which can create new Green product possibilities for manufacturers — think biodegradable water bottles.
Tourlomousis says he was inspired by the Materials Genome Initiative started by U.S. President Barack Obama. The Initiative's is a multi-agency effort designed to create a new era of policy, resources, and infrastructure that support U.S. institutions in discovering, manufacturing, and deploying advanced materials twice as fast, at a fraction of the cost. Tourlomousis has brought the concept to Greece.
A second robot is dedicated to the design and manufacture of high-resolution biodegradable fiber structures that can be used in the human body to create structures on which human cells can grow. Tourlomousis is applying his research to create tissue re-generation in women who have had mastectomies. He hopes to develop FDA approved products within five to seven years.
Tourlomousis has completed building his lab at Demokritos, which will also set up a second lab that will be accessible to startups and bigger companies that want to develop their distant manufacturing capabilities.
Nounesis says Greece must "aim for a very high level of competitiveness" and must be a society that is willing to change, adding, "I know that young talented Greeks are ready to return."
Dr. Nounesis earned his B.S. in Physics at the National and Kapodistrian University of Athens. He obtained his Ph.D. at the School of Physics and Astronomy of the University of Minnesota. He completed his postdoctoral training in the Chemistry Department of the Massachusetts Institute of Technology and the Executive Education Program on Innovation for Economic Development at the Harvard Kennedy School of Government.
Dr. Tourlomousis completed his Ph.D. at the Highly Filled Materials Institute (NJ, USA) and was a postdoctoral researcher at the MIT Center for Bits and Atoms for 4 years before joining Demokritos. He is founder/CEO of Biological Lattice Industries, an early-stage biotechnology company that is developing an AI-driven robotic biofabrication platform for tissue engineering and regenerative medicine applications.
Prime Minister Mitsotakis tells John Metaxas that Greece's Brain Drain can be Reversed
The prime minister answered my question during a public conversation he had at the Council on Foreign Relations in New York, moderated by Ambassador Nicholas Burns, on September 26, 2019.