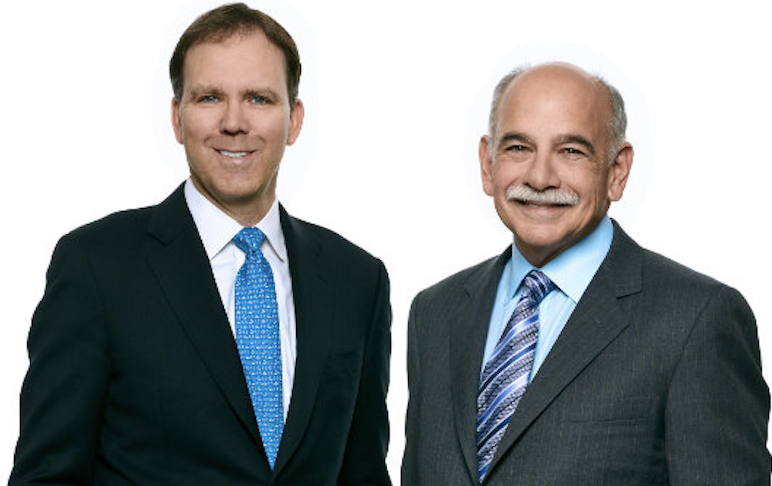 In my three decades as a financial journalist I have been fortunate to interview a number of brilliant people who have educated me about how world finances and markets work. None has been more insightful than Carl Weinberg, who I first met more than 20 years ago when I was anchoring at CNN. That's why I rushed to accept the invitation of the Summit, NJ-based law firm, Brown Moskowitz & Kallen, to their breakfast briefing this week with Carl and his colleague at High Frequency Economics, Jim O'Sullivan. Carl covers world economics and Jim covers the U.S. While Carl is frightened by some of the economic trends he sees, primarily negative interest rates in Europe, Jim thinks the U.S. economy remains resilient, and as long as the labor market remains strong, he remains optimistic.
Brown Moskowitz & Kallen represents clients throughout New Jersey and New York in business, finance and litigation cases. The firm invited clients in the M&A, finance and wealth management communities, who peppered Carl and Jim with questions about the economic outlook. Carl himself, a client of Brown Moskowitz & Kallen, spoke about the "lifetime value" he received from firm co-founder Stuart Brown in a matter in which Carl had retained the firm to represent him.
The podcast begins with Stuart's introduction, is followed by the presentations by Carl and Jim, and concludes with a spirited Q&A. Total running time is: 1 hour 23 minutes. A transcript will be posted soon once we have completed the editing process.
CLICK THE AUDIO PLAYER BELOW TO LISTEN
Visit: Brown Moskowitz & Kallen
Visit: High Frequency Economics
Recorded September 23, 2019