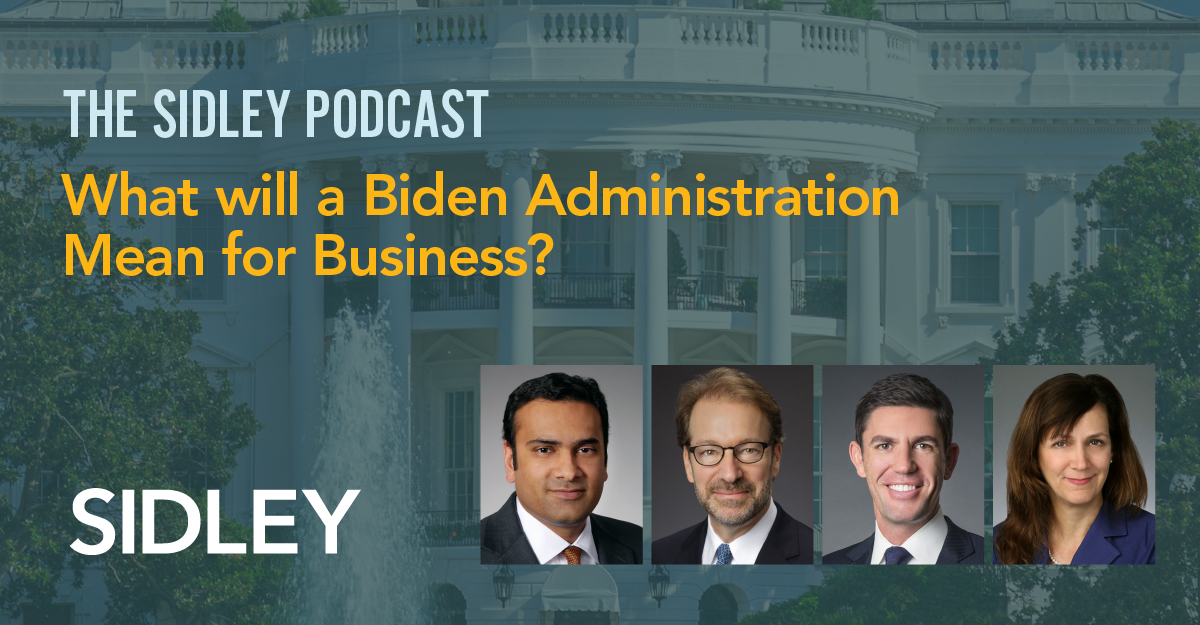 The voters have spoken. A Biden administration waits in the wings and could soon pursue an agenda that could change the way companies are regulated and the way they do business. How will the new administration respond to COVID-19, and which companies should now worry about being investigated? Our latest episode of The Sidley Podcast grapples with those questions and many others. Join host and Sidley partner, Sam Gandhi, as he speaks with three of the firm's thought leaders at the intersection of government, policy, and the law — Peter Roskam, Michael Borden, and Patricia DeLoatche.
Peter is a member of Sidley's Government Strategies practice and a former six-term U.S. Representative from Illinois. He held some of the most significant positions in the U.S. House of Representatives during his tenure from 2007 to 2019. Michael leads the firm's Government Strategies practice and is also a member of the White Collar: Government Litigation and Investigations practice. He joined the firm after working for nearly a decade on Capitol Hill, including as senior counsel of the U.S. House Committee on Financial Services during the financial crisis and the enactment of the Dodd-Frank Act. Patricia is a member of the firm's Government Strategies and Food, Drug, and Medical Device Compliance and Enforcement practices. Prior to joining Sidley, she served for more than 25 years as a leading health policy adviser to key members of Congress.
This episode includes topics discussed on a recent webinar.
Executive Producer: John Metaxas, WallStreetNorth Communications, Inc.
What Will a Biden Administration Mean for Business? | Insights | Sidley Austin LLP