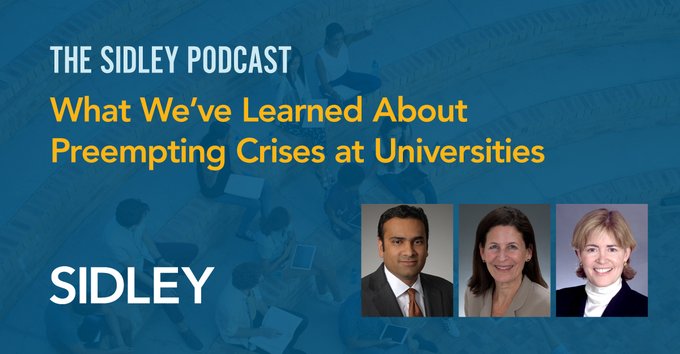 The Sidley Podcast
What We've Learned About Preempting Crises at Universities
It's not just "varsity blues." Universities are facing different kinds of crises than they ever imagined before, from COVID and Title IX to sports scandals and cyber breaches. As these institutions find themselves in legal and political crosshairs, their legal counsel are called on to mitigate and even preempt potential disaster. How do they plan and execute these strategies, and what makes universities unique compared to other institutions?
Our latest episode of The Sidley Podcast grapples with those questions and many others. Join host and Sidley partner, Sam Gandhi, as he speaks with two of the firm's thought leaders on the subject — Wendy Lazerson and Karen Popp. Wendy is co-chair of Sidley's Labor, Employment, and Immigration practice and is a partner in the firm's San Francisco and Palo Alto offices. She also serves on the firm's COVID-19 Task Force. Karen is the global co-leader of the firm's White Collar: Government Litigation and Investigations practice and is a partner in the firm's Washington, D.C. office.
Executive Producer: John Metaxas, WallStreetNorth Communications, Inc.
Listen at Sidley.com
https://www.sidley.com/en/insights/podcasts/2021/podcast-what-weve-learned-about-preempting-crises-at-universities