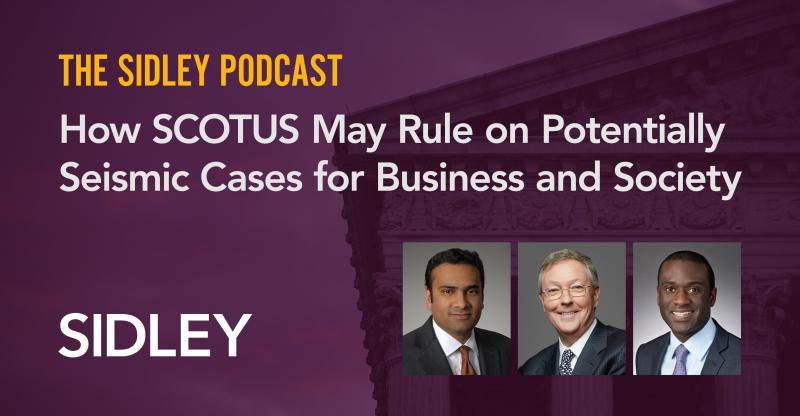 This could be the most controversial United States Supreme Court term ever. After overturning Roe v. Wade, the court now considers more profound change in election law, affirmative action, and other regulations affecting businesses. As SCOTUS welcomes a new justice, it faces questions over its own legitimacy and how far the conservative majority will go. Join The Sidley Podcast host and Sidley partner, Sam Gandhi, as he speaks with two of the firm's experienced Supreme Court lawyers on these subjects — Carter Phillips and Kwaku Akowuah.
Carter is a partner in Sidley's Supreme Court and Appellate practice. He `is one of the most experienced Supreme Court and appellate lawyers in the country. During his time with Sidley, Carter has argued 80 cases before the high court, more than any other lawyer in private practice. Prior to joining Sidley, Carter served as an Assistant to the Solicitor General. In that position, he argued nine cases before the Supreme Court on behalf of the U.S. government. In all, he has now made 89 oral arguments before the court and more than 145 before the U.S. Courts of Appeals.

Kwaku is a co-leader of the firm's Supreme Court and Appellate practice. His work encompasses traditional appellate litigation, administrative law disputes, contract disputes, and pre-litigation counseling. Prior to joining Sidley, Kwaku served as a law clerk to Justice Stephen Breyer of the U.S. Supreme Court.
Executive Producer: John Metaxas, WallStreetNorth Communications, Inc.