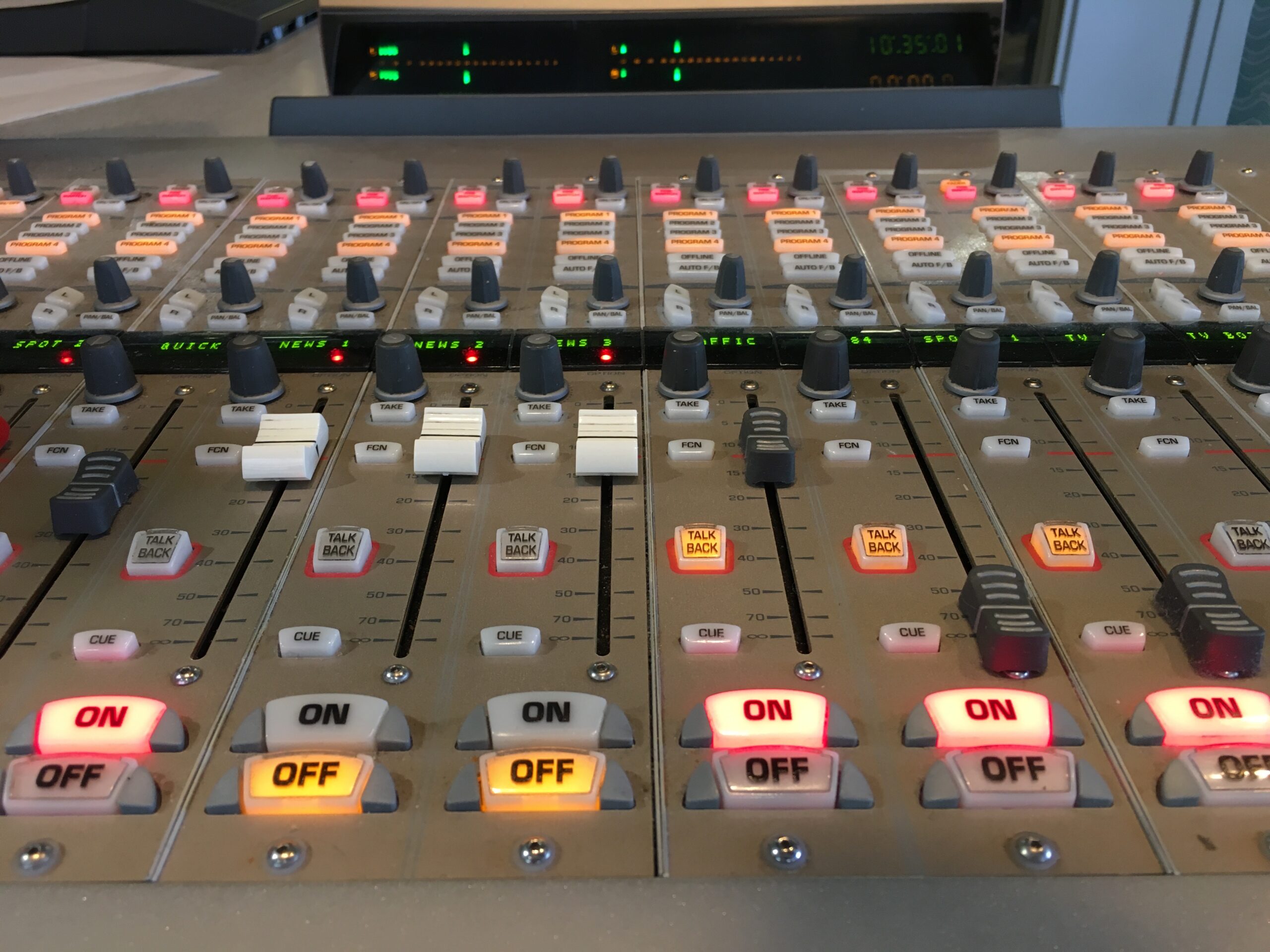 By John Metaxas
November 10, 2022
Last Friday I anchored my final newscast on WCBS. It ended a run of 18 and 1/2 years at the station, my longest stint at any one job, and one of the most meaningful and satisfying professional experiences of my life.
While leaving is bittersweet, I can celebrate all that those 18+ years meant to me. The opportunity to speak to some two million listeners every week and bring them the news in a fair and professional manner was a privilege for me and my colleagues. The opportunity both to anchor and report on the flagship station of the CBS Network — where Edward R. Murrow had broadcast, and whose photo still graces the wall — was a source of pride. For five of those years, I worked in both radio and TV, reporting for WCBS-TV during the week, and anchoring on WCBS Newsradio on the weekends.
Joining CBS in 2004 was like coming home. For the first time I was working at two stations that I had grown up listening to and watching. WCBS was also the first stop for news for those of us in the journalism profession. I always knew that I was speaking not only to the general public, but also to my colleagues and competitors who were tuning in every morning to hear how we would cover the news. It also was a return to my roots, back to radio and running the board while broadcasting, which I had done as an undergraduate at New York's WKCR-FM at Columbia University.
I had had an exciting early career before joining WCBS in 2004: working for Roone Arledge at the 1984 Olympics; covering the law as a reporter and editor at The National Law Journal; covering a presidential campaign for ABC News in 1988; investigating Donald Trump's casino finances for six months in 1990 and producing reports on World News Tonight with Peter Jennings, This Week with David Brinkley as well as for Barbara Walters; going on air as a correspondent at CNBC in its early days and scooping the competition in reports on the FNN bankruptcy court proceedings; covering the Citibank-Travelers merger and learning how to anchor at WFSB-TV in Hartford, Conn.; taking six months to help my friend Dennis Mehiel run for Congress as his communications director; and then landing at CNN where I spent seven great years, anchored my own network news program Your Money, covered the dot-com stock market crash as CNN's NASDAQ Correspondent and interviewed Mikhail Gorbachev. My next job as Chief Corporate Communications Officer at E*TRADE in the year and a half surrounding 9-11 was a challenge as we navigated the upheaval of those attacks, the financial fallout, executive scandals and an SEC settlement.
Coming to local news at WCBS was a change from my earlier work. In many ways I found more truth on the streets of New York than I had found in many of the presidents, world leaders, CEOs and politicians who previously I had interviewed regularly. My award-winning reports for Channel 2 on the Hispanic people who were being attacked on Staten Island and the African American man from Queens who was exonerated after being wrongly accused of a crime showed me that, as journalists, we are at our best when we give a platform to those who otherwise would not be able to speak their truth publicly. Driving into a neighborhood with a big television news van and a camera crew — or our radio microphone with its WCBS flag — was an event in itself. While many people did not want to speak to us, many others were grateful for the opportunity to tell their stories. They were the ones who made it possible for us to do our jobs.
Of course, not all that we reported at WCBS was local. Anchoring an hour of news on the radio means that you are covering the entire world in that hour. I will never forget anchoring on the overnight in New York when the Indian Ocean Tsunami struck the coasts of Asia on the morning of Dec. 26, 2004. Though I've covered my share of natural disasters, including Superstorm Sandy, this tsunami was of a whole different magnitude. More than 225,000 people were killed in a matter of hours as successive waves hit successive coasts. I remember reading wire service reports with the death toll increasing by tens of thousands each hour. While I was not there, I was the one telling the story to people driving home from Christmas celebrations. The next day I interviewed by phone an American tourist who had been at the beach in one of the Asian countries and who with his wife had swum out several hundred yards from shore on boogie boards moments before the tsunami hit. He told me that they felt only calm seas. The rising water had lifted them gently as the wall of waves, possibly 30 feet high, crashed onto the beach, presumably killing most of the people who had remained there. After the big wave receded the couple swam back to shore to find the devastation the tsunami had left behind. It was an interview that I will never forget and an example of how we can tell stories on the radio even when we are far from the scene. Radio is story telling at its purest.
I have so many memories: breaking the news of the end of the transit strike live on the radio; covering the opening of Citi Field, the new home of my Mets; covering a presidential debate between George Bush and John Kerry, and then between Donald Trump and Joe Biden; the bitter cold along the Hudson as I delivered my TV live shot on the day the airliner landed safely on the water; the deadpan I could clearly see on Bernard Madoff's face as he was sentenced in a downtown courtroom to life in prison; the obvious pain of his victims as they watched too.
Other memorable events included covering two New York City marathons from the open pace car — actually a pickup truck in which a couple of chosen reporters were seated looking backwards at the elite male runners. As we worked our way through the five boroughs and soaked in the festive atmosphere in the city, we broadcast the race live over our cell phones back to the station and out to the tri-state area.
And then there was the 2009 ticker tape parade for the World Champion New York Yankees. While the parade was not for me, I was in it, riding through the "Canyon of Heroes" in the open press truck, as the crowd cheered and the endless stream of paper wafted onto our heads, broadcasting my unscripted reports live into my cell phone as Derek Jeter, just a few yards behind me on the next flatbed, waved to the crowd.
It all came to a nice coda for me last year with an Edward R. Murrow award for a newscast that I co-anchored in 2020, as the pandemic was just starting, the economy was beginning to crater, and our political system was sorting itself out. The award was not for me. It was for the team. And what a team to work with for more than 18 years.
I am grateful to then WCBS program director Crys Quimby and news director Tim Scheld for giving me the tremendous opportunity to join WCBS 18 years ago. Tim was by far the best news director that I ever had and I wish him luck in his new role as head of the RTDNA. And a shout out of thanks to Jane Tillman Irving, who was one of my radio reporting and writing teachers at Columbia Journalism School. I was always so impressed that Jane was accomplished in both radio and TV reporting at WCBS and Channel 2. So many people wanted to "be like Mike," but I wanted to be like Jane. The fact that, years later, I actually got to work with her at WCBS, was a thrill. And then, even later, as I taught journalism and public speaking at the graduate and undergraduate levels at Iona University and Norwalk Community College, I still had Jane as a role model.
My time at WCBS was different from the first half of my career in one other very significant way — for these 18 years I have been a part-time employee. It was rare for me to work more than two or three days a week at WCBS (including the very busy years that I reported four days for Channel 2 during the week and anchored Saturday and Sunday on the radio at WCBS.)
That part-time status meant that I had to do other things. The other jobs were as much a part of my work life over the past 18 years as WCBS. And so I need to thank David Friend for giving me the opportunity at Channel 2; Jack Franchetti for asking me to join him as an executive coach for twelve years inside some of the biggest corporations in the world; and Tim Scheld who got me my five-year gig at Bloomberg, so that I could broadcast business reports on WCBS from Bloomberg headquarters, working in the newsroom within 20 feet of Mike Bloomberg, who I had covered so many times at City Hall. Bloomberg also put me on the air on stations in San Francisco, Los Angeles, Dallas, Chicago, Washington and Boston. Thanks also to David Berger and Alicia Sandberg for inviting me to practice law with them and use skills from my other graduate degree from Columbia Law School. One of my most vivid professional memories from the last 18 years was standing before a judge to represent a client in Federal Immigration Court one afternoon, and then heading out to cover a mayoral forum for WCBS in the evening. That's the life of a free-agent — a whole different experience from the first half of my career when I had full-time staff jobs.
I also want to thank the good people at the Sidley Austin law firm who invited me to be executive producer of The Sidley Podcast three years ago. In that time together we've built the podcast into an effective marketing tool with 30 episodes completed so far.
I'll be staying on with Sidley and considering next steps. I may develop my own podcasting further, or join with another organization — not sure yet. But I am determined that the next phase of my life be as interesting as the one that I have just completed.