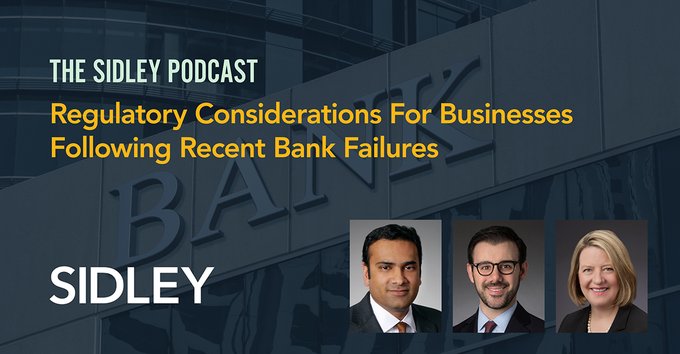 Bank failures have roiled the financial sector, leading consumers and businesses to brace for economic fallout. In the latest episode of The Sidley Podcast, we discuss just how steady the #banking system is and whether regulators can make it any safer. What are the tools businesses can use to mitigate risk, and could a crisis like 2008 be repeated?
Podcast host and Sidley partner, Sam Gandhi, speaks with two of the firm's thought leaders on the financial industry — Michael D. Lewis and Teresa Wilton Harmon.
Michael represents financial institutions, their investors, and their counterparties in connection with federal and state banking laws. His experience includes advising on complex investment authority and regulatory structure questions, prudential regulation of banking organizations, and bank resolution and receivership issues.
Teresa is the managing partner of Sidley's Chicago office and focuses on financial transactions and commercial law. Her financial transactions experience includes secured and unsecured loans, workouts and restructurings, and structured finance and securitization.
Executive Producer: John Metaxas, WallStreetNorth Communications, Inc.